Success Quotes, Sayings, and Thoughts
We've selected the very best success quotes from literally hundreds considered. Here are the greatest success quotations, by truly inspirational people, including Thomas Edison, Ralph Waldo Emerson, Winston Churchill, and Dale Carnegie.
---
Marva Collins Quote on Success:
"Success doesn't come to you... you go to it. "

Dexter Yager Success Quote:
"A winner is one who accepts his failures and mistakes, picks up the pieces, and continues striving to reach his goals."

Anonymous Saying on Success:
"Success is best measured by how far you've come with the talents you've been given. "


Vincent J. Lombardi Quote on Success:
"The difference between a successful person and others is not a lack of strength, not a lack of knowledge, but rather in a lack of will."

Dexter Yager Thought on Success:
"Champions are willing to do the things they dislike to create something they do like. Don't let the things that matter most be at the mercy of the things that matter least."

Winston Churchill Success Quote:
"Success consists of going from failure to failure without loss of enthusiasm."

Paul J. Meyer Success Quotation:
"Whatever you vividly imagine, ardently desire, sincerely believe, and enthusiastically act upon... must inevitably come to pass!"

Orison Swett Marden Success Saying:
"Success is not measured by what you accomplish but by the opposition you have encountered, and the courage with which you have maintained the struggle against overwhelming odds."


Thomas A. Edison Success Quote:
"Many of life's failures are people who did not realize how close they were to success when they gave up."

Woody Allen Saying about Success:
"Eighty percent of success is showing up."

Ralph Waldo Emerson Success Quote:
"No one can cheat you out of ultimate success but yourself."

H. Jackson Brown, Jr. Success Quote:
"Opportunity dances with those who are already on the dance floor."

Ralph Waldo Emerson Thoughts on Success:
"To laugh often and much; to win the respect of intelligent people and the affection of children; to earn the appreciation of honest critics and to endure the betrayal of false friends; to appreciate beauty; to find the best in others; to leave the world a bit better whether by a healthy child, a garden patch or a redeemed social condition; to know even one life has breathed easier because you have lived. This is to have succeeded. "



Unknown Author Thought on Success:
"Judge your success by what you had to give up in order to get it. "

B.C. Forbes Success Quotation:
"The man who has done his level best... is a success, even though the world may write him down a failure."

Dale Carnegie Success Quote:
"Flaming enthusiasm, backed by horse sense and persistence, is the quality that most frequently makes for success."

Great Comment on Success and Focus by Swami Sivananda: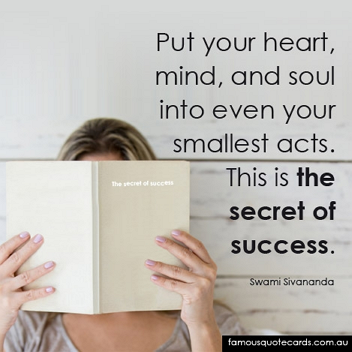 "Put your heart, mind, and soul into even your smallest acts. This is the secret of success."

Roger Babson Success Saying:
"It is wise to keep in mind that neither success nor failure is ever final."

Louis Pasteur Success Quote:
"Let me tell you the secret that has led me to my goal. My strength lies solely in my tenacity."

Albert Einstein Success Quote:
"Try not to become a man of success. Rather become a man of value."

Unknown Author Success Thought:
"The road to success is always under construction. "

Check out our other, related lists of the very best quotes: