Inspirational Encouraging Quotes
It only takes a couple of seconds to re-inspire yourself. Check out our inspirational encouraging quotes to find a word of encouragement and get a quick shot of inspiration via these short inspirational quotes from some amazing people, including: Paulo Coelho, Albert Einstein, and Mark Twain.
---

Inspirational Quote on Courage and Encouragement from Mark Twain:
"Courage is resistance to fear, mastery of fear – not absence of fear."

Inspirational Encouraging Quote on Not Being Too Hard on Yourself:
"Measure yourself by your best moments, not by your worst. We are too prone to judge ourselves by our moments of despondency and depression."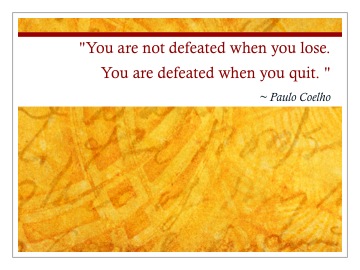 All-Time Favorite Quote on Courage and Perseverance:
"Courage doesn't always roar. Sometimes courage is the little voice at the end of the day that says I'll try again tomorrow."

Encouraging Quote on Accepting Mistakes and Moving On, from Einstein:
"Anyone who has never made a mistake has never tried anything new."


Encouraging Quote on Having Faith in Yourself:
"Promise me you'll always remember: You're braver than you believe, and stronger than you seem, and smarter than you think."

Encouraging Words for When You're Feeling Depressed:
"Whoever you are, there is some younger person who thinks you are perfect. There is some work that will never be done if you don't do it. There is someone who would miss you if you were gone. There is a place that you alone can fill."

Inspirational Encouraging Quote on Never Giving Up:
"Never give up on what you really want to do. The person with big dreams is more powerful than one with all the facts."

Inspiring, Encouraging Quote for Difficult Times:
"What the caterpillar calls the end of the world, the master calls a butterfly."

Inspiring Quote on Why There Are Difficulties in Life, and How We Grow From Them:
"There are moments when troubles enter our lives and we can do nothing to avoid them. But they are there for a reason. Only when we have overcome them will we understand why they were there."


Encouraging Quote on Not Fearing Change:
"We can't be afraid of change. You may feel very secure in the pond that you are in, but if you never venture out of it, you will never know that there is such a thing as an ocean, a sea. Holding onto something that is good for you now, may be the very reason why you don't have something better. "

A Classic Encouraging Saying about Dealing with Difficult Times:
"Life is not about waiting for the storms to pass...
It's about learning how to dance in the rain."

Short Encouraging Quote on Trusting Yourself, from Benjamin Spock:
"Trust yourself. You know more than you think you do."

Excellent Quote of Losing but Not Giving Up:
"You are not defeated when you lose. You are defeated when you quit. "

Check out our other, related lists of the very best quotes: