Encouraging Quotes - Famous Encouragement Quotes
Carefully chosen encouraging quotes can help keep us moving in the direction of our goals, providing that little extra push forward. It only takes a couple of seconds to re-inspire yourself, to give yourself the encouragement to press on. Get a quick shot of encouragement and inspiration via these encouraging words from some amazing people, including: Vince Lombardi, Thomas Edison, and Oprah Winfrey.
---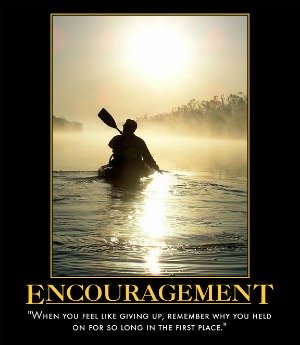 Encouraging Words of Wisdom from Oprah Winfrey on our personal power:
"It doesn't matter who you are, where you come from. The ability to triumph begins with you. Always."

Billie Jean King Short Encouraging Quote on what it takes to be a champion:
"Champions keep playing until they get it right."

Encouraging Quote from Nelson A. Rockefeller on challenges and opportunities:
"Wherever we look upon this earth, the opportunities take shape within the problems."


Benjamin Spock Encouraging Quote on trusting yourself:
"Trust yourself. You know more than you think you do."

Les Brown Quote on personal potential:
"No one knows what they can do until they try."

Words of Encouragement from John F. Kennedy on crisis and opportunity:
"When written in Chinese the word "crisis" is composed of two characters one represents danger and the other represents opportunity."

Famous Mary Kay Ash Quote on turning failure into success:
"For every failure, there's an alternative course of action. You just have to find it. When you come to a roadblock, take a detour."

Classic Vince Lombardi Quote on Winners and Losers:
"Winners never quit and quitters never win."


Quote on Encouragement - never give up on what you really want.:
"Never give up on what you really want to do. The person with big dreams is more powerful than one with all the facts."

Encouraging Motto from a Chinese proverb:
"The gem cannot be polished without friction, nor man perfected without trials."

Thomas Edison Quote on not giving up:
"Many of life's failures are people who did not realize how close they were to success when they gave up."

Classic Lance Armstrong Quote on quitting is forever:
"Pain is temporary. It may last a minute, or an hour, or a day, or a year, but eventually it will subside and something else will take its place. If I quit, however, it lasts forever."

Fiery Encouraging Quote from Ayn Rand:
"The question isn't who is going to let me; it's who is going to stop me."

Check out our other, related lists of the very best quotes: